This movie requires Flash Player 9
SPRING BLACK BEAR
Our Trophy Spring Black Bear hunts are in some of Alberta's most remote and inaccessible areas. The area that we hunt is near High Level, Alberta and was chosen for these reasons. The remoteness and lack of hunting pressure are key ingredients for Monster Bears. Much of the area we hunt hunt area only accessible only by boat. We use trucks, quads and boats to access individual sites. Because the areas we hunt are so remote and there is no pressure from humans, a lot of the bears have not seen a human before. This makes for some very bold bears. There is also a high poulation of wolves in the area.
We hunt in a 2 bear per hunter zone, meaning you are licensed to shoot 2 bears. There is a trophy fee for the second bear. Our hunting is done over bait from comfortable tree stands. All of our sites are built for consistency and comfort. The consistency of bait crib heights helps the hunter to more effectively judge bear size. Shot distances are from 13-20 yards. This setup provides near perfect shot conditions for both bow and rifle hunters.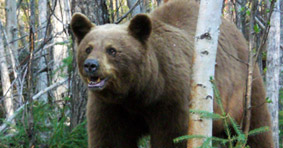 THE HUNT
Spring Black Bear hunting is in a very relaxing atmosphere with temperatures ranging from 25 °F to 84 °F averaging around 65 °F with a lot of very exciting, intense hunting. The sun comes up at about 4:30 am and sets at about 11:00 pm.
Your day will start with a full breakfast at around 9:00 a.m. After breakfast, you can lounge around in camp, take a walk, help skin bears or go out baiting with your guide. We will have our big meal at around 3:30 – 4:00 pm.
Then it's off to the stands by boat, quad or ATV. You will usually be on stand from about 5:30pm until 10:30 – 11:00 pm depending on where your stand is and when the sun sets.
We suggest that while on stand, you also have a camera handy along with your rifle or bow as there is usually lots of exciting footage and entertainment to be had.
Your guide will pick you up shortly after sunset and you will usually arrive back in camp between 11: 00 and 12:00 p.m. where snacks or a light meal wait for you, giving you plenty of time to discuss the evening's events and encounters.
CAMP
Our camps are extremely comfortable first class wall tent camps. Great pride and attention is taken to camp appearance, comfort and equipment. We generally book 4 hunters per week, but we can accommodate up to 6. This allows us to run smaller, more personal camps with all the amenities that you need.
Hunter tents: 12' x 14', 2 – 3 per tent or 10' X 12', 2 hunters per tent with wood floors, wood stove, drying racks, cots and all bedding and towels.
Dinning tent: spacious 14' x 16' with wood floor, wood stove, lights and snacks.
Cook tent: full time cook (you will be well fed).
Off site showers can be arranged during the day.
Generator for lights and battery charging.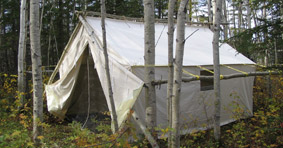 SUCCESS RATE
*To date 175% success with 200% opportunity on a 2 bear limit.
*Opportunities for a wolf.
*10 – 15% of our bears are color phase.
---
"MUZZY BAD TO THE BONE BOWHUNTING TV"
TRUE NORTH OUTFITTERS GUIDED PRO SHOOTER JOEY MENEGATTI ON A 2008 SPRING BLACK BEAR HUNT.JOEY TOOK 2 BLACK BEARS WITH A BOW AT UNDER 16 YARDS. THE SHOW AIRED ON THE OUTDOOR CHANNEL IN SUMMER 2009.
---
2017 HUNT DATES
Week 1 May 10 – May 15
Week 2 May 17 – May 22
Week 3 May 24 – May 29
Week 4 May 31 – June 05
Week 5 June 07 – June12
TROPHY SPRING BLACK BEAR HUNT 2014 PRICES
6 Days of hunting $ 3,750.00 US
2nd Bear $ 500.00 US
Non Hunter $ 1,500.00 US
LICENCE COSTS
Bear and Wolf licences $ 225.00 CAN (approximately)
WIN card (first time hunters in Alberta) $ 8.00 CAN (good for 5 years)
Bow hunting permit $ 22.50 CAN
PRICE INCLUDES
Licenced guide (2 on 1)

Camp lodging and meals
Pickup and drop off in High Level
Trophy skinning
Bedding
PRICE DOES NOT INCLUDE
Licences and tags
2nd bear
Pop and alcoholic beverages
Tips for guide and cook
Taxidermy and butchering
Taxes if applicable
2017 BOOKING CONDITIONS
All prices are in US Dollars.
50 % required to secure booking.
Remainder of the hunt fee is due on or before arrival and must be paid by cash or certified cheque only.
Deposits are non refundable but credit may be given for future hunts at the outfitters discretion
All deposits are insured and bonded by

Alberta Professional Outfitters Society

.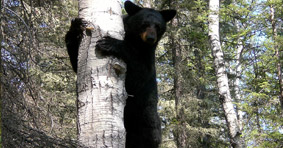 ---
Give us a call to book your next hunt:
Ph: 403-815-6634.
You can also reach us by email: