Ar
This movie requires Flash Player 9
FALL RUT MOOSE HUNTS
Our Fall Rut Moose Hunt takes place during the rut from late September to early October in northern Alberta near the town of High Level. The area that we hunt is very remote with virtually no resident hunting pressure. With only winter roads or helicopter access, it would be unlikely to meet another person while hunting. These factors contribute to a high percentage of mature Bulls.
These are 7 day hunts with 2 different scenarios and comfort levels.
The first hunt accommodation is in wall tents with a separate dining tent and is accessible by a tracked Argo. Hunting will be done by foot, canoe and argo. As this is a rut hunt your guide will spend a lot of time calling . We will have a full time cook so you will be well fed and as our camp is located right in the middle of prime moose habitat on a creek. Seeing moose or calling from is not uncommon .
The second hunt is a a rustic camp on a remote lake with few amenities and is accessible only by air. We on take 2 hunters per year in this camp and it is done only on a two hunter per guide basis. As we are flying there is a weight restriction of 75 pounds per hunter. This is truly a remote hunt with only helicopter access. Your days will be spent calling from boats and on foot
A Wolf tag is may be purchased for this hunt. A Black Bear tag may be purchased at a nominal fee if available and weather permits.
As this is a rut hunt your guide will be doing a fair amount of calling. There is nothing like hearing the grunt of a bull moose responding to your call crashing through the brush. This is when the excitement starts. During calling, moose may appear unexpectedly or may be around the next bend so you must always be prepared and ready to shoot.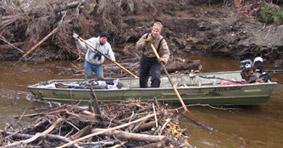 ARGO CAMP
Our camps are comfortable first class wall tent camps. Great pride and attention is taken to camp appearance, comfort and equipment.
Hunter tents: 12' x 14' or 10' x 12'- 2 hunters per tent, wood stove, drying racks, cots
Dinning tent: 14' x 16' in camp, 12' x 14' or 10' x 12' in spike camp
Cook tent
DROP CAMP
2017 HUNT DATES
September/October
(Call for dates with some flexibility to meet your availability)
TROPHY CANADIAN FALL MOOSE RUT HUNT 2017 PRICES
Wall Tent Camp 7 day hunt (2 hunters per guide) $6350.00 US
Drop Camp 7 day hunt (2 hunters per guide) $12,200.00 US
Black Bear (Trophy Fee) – $500.00 US
LICENCE COSTS
Moose and wolf Licence $400.00 US
Bear licence $ 100 US
PRICE INCLUDES
Licenced guide
Camp lodging and meals
Pickup and drop off in High Level
Trophy care, skinning
PRICE DOES NOT INCLUDE
Bedding (sleeping bag rated to 0⁰ F suggested)
Pop and alcoholic beverages
Taxidermy and butchering
Tips for guide and cook
Taxes if applicable
Moose and wolf Licences and tags
2017 BOOKING CONDITIONS
All prices are in US Dollars.
50 % required to secure booking
Remainder of the hunt fee is due on or before arrival and must be paid by cash or certified cheque only
Deposits are non refundable but credit

may

be given for future hunts at the discretion of the outfitter
All deposits are insured and bonded by

Alberta Professional Outfitters Society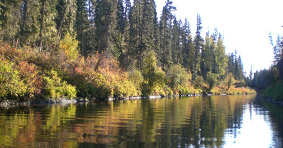 ---
Give us a call to book your next hunt:
Ph: 403-815-6634
You can also reach us by email:
jeff@truenorthoutfitters.net or chris@truenorthoutfitters.net