This movie requires Flash Player 9
FAIR CHASE HUNT FOR FREE ROAMING WILD BISON
Bison (Buffalo) hunting is one of the most severe and extreme hunts of a lifetime. It is a very physically demanding hunt and some have called it the toughest hunt they have done. Temperatures range from -30⁰ F to 40⁰ F. With the sun rising at about 7:30 am and setting at about 6:00 pm, you will log a lot of hours on a snowmobile.
Your day will begin at about 7:30 am with breakfast followed by getting the gear and snowmobiles ready for the day. Because it is an extreme winter hunt, special care and attention is taken to hunt preparations to ensure that we have everything we will need. Then it is off on the snowmobiles, travelling oil exploration seismic lines, creek bottoms, old trapper trails and even ancient bison trails to find a fresh track. It is not uncommon to do some trail cutting to open up trails.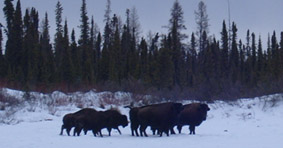 It can sometime take days to find fresh tracks and once we find them we may have to proceed on foot. Distances of 15 – 80 miles may be travelled per day on the snowmobiles. We will have lunch in the field and then continue with the hunt. It can sometimes take days to catch up to an animal, occasionally losing them in an area we cannot access. Bison usually appear when you least expect them, so being alert is a must.
After an exhausting day you will usually arrive back in camp at about 7:00 pm for a nice warm dinner and well deserved and much needed rest.
OUR HISTORY
Our senior guide has been hunting Bison for over 17 years and is considered by most to be one of Alberta's most experienced Bison Guides. His perseverance and knowledge are his keys to his success. Other outfitters offer this hunt, but few have actually been there and hunted. Even fewer have come back for a second season.
WHERE WE HUNT
The opportunity to hunt free roaming wild bison is very limited in Canada and the United States. Our hunts take place in Northern Alberta near Wood Buffalo National Park. The wet conditions in the forests and bogs make most of their range inaccessible except during the winter months on frozen ground. Our hunts take place from mid February until late March to take advantage of the warmer weather and longer days.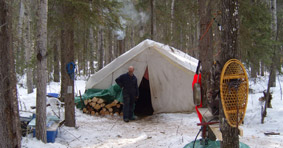 Few people realize that there are isolated free roaming Bison populations outside of the park and that they can be hunted. Make no mistake about it, these are wild animals! This could be one of the toughest hunts in North America. The fact that they are still out there attests to how tough it is to hunt them. You will not see any resident hunting pressure.
CAMP
Our camps are comfortable insulated wall tent camps set up near Bison Habitat. Great pride and attention is taken to camp appearance, comfort and equipment. We only take 2 hunters at a time on a one hunter per guide basis.
Hunter tents: Insulated 12' x 14' or 10' x 12'-2 hunters per tent, wood stove, drying racks, cots.
Dinning/ Cook :Insulated 14'X 16' wood stove, lights
Assistant / cook ( if more than 1 hunter in camp)
SUCCESS RATE
2015/2016 HUNT DATES
8 Day Hunts
Mid February until late March
(Call for dates)
LICENCE COSTS
No licence is required to hunt wild bison in Alberta, but hunters are encouraged to buy a wolf licence. Wolves may be taken at no extra charge on the hunt. Under Federal law, these bison are not considered "pure" Wood Bison subspecies, and no CITES permit is required for export.
WOOD BISON HUNT PRICES
8 Days of hunting (1 hunter per guide) – Call for pricing
PRICE INCLUDES
Licenced guide
Camp lodging and meals
Pickup and drop off in High Level
Trophy skinning
All Bedding
PRICE DOES NOT INCLUDE
Taxes if applicable
Pop and alcoholic beverages
Taxidermy and butchering
Tips for guide and cook
2017 BOOKING CONDITIONS
All prices are in US Dollars.
50 % required to secure booking.
Remainder of the hunt fee is due on or before arrival and must be paid by cash or certified cheque only.
Deposits are non refundable but credit may be given for future hunts at the outfitters discretion
All deposits are insured and bonded by

Alberta Professional Outfitters Society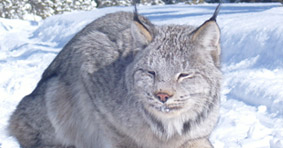 ---
Give us a call to book your next hunt:
Ph: 403-815-6634.
You can also reach us by email:
jeff@truenorthoutfitters.net orchris@truenorthoutfitters.net